Learn About the Different Types of Saree Fabrics
The amount of variety in saree material and decorative work is overwhelming.  We will try to simplify things by describing some of the most popular fabrics used for sarees so you can choose the OneMinuteSaree that is best for you!
1) Art Silk
Artificial silk or art silk is a synthetic material that resembles pure silk.  Just like pure silk sarees, art silk sarees are airy, super light and really comfortable which makes them an ideal choice during the hot months of summer.  The actual material is usually made out of rayon, mercerized cotton and polyester, but will vary depending on the type of silk being imitated. 
2) Chiffon
The word Chiffon is of French origin and means a "cloth. Chiffon is a lightweight plain-woven fabric with mesh like weave that gives it transparent appearance. It is primarily made from cotton, silk or synthetic fibers like nylon, rayon and polyester.
3) Cotton
Everyone loves Cotton!  And cotton sarees are all the more luxurious and comfy! Cotton used in sarees are non-stretchy, pure cotton.
4) Cotton-silk
Cotton silk fabric is a blend of cotton and silk fibres, adding an extra layer of luster to a regular cotton saree. A lightweight silky and comfortable weave, cotton silk fabric has a soft hand-feel and a sturdy, silken drape.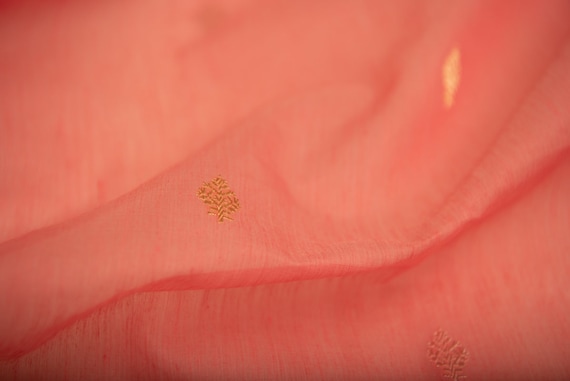 5) Crepe
Crepe is a type of thin silky fabric known for its distinctive crinkled texture and wrinkled appearance. Crepe fabric was originally only made using silk, but nowadays all types of fabrics including cotton, chiffon, and rayon are used to create  faux crepe.
6) Georgette 
Georgette fabric is a woven silk textile that is translucent with a slightly puckered surface and a beautiful drape. Georgette is a light-weight, crinkled and sheer fabric, displaying an overall bouncy look. Georgette is woven in two forms: Pure and Faux. Pure Georgette is woven out of Silk yarns, while the Faux Georgette is woven from Rayon and Polyester.
7) Jacquard
Jacquard is a specially woven fabric  similar to brocade.  It is created using a Jacquard loom and various materials such as cotton, polyester, silk and acrylic can be woven to create them. Some of these fabrics have a raised pattern.  Jacquard fabric refers to any type of pattern that is woven directly into the material, rather than embroidered, printed, or stamped onto the fabric. Unlike printed and stamped designs, jacquard weaves will have a reverse pattern that is visible on the inside of a garment. 
9) Khadi
Khadi means handspun and handwoven cloth. In 1918 Mahatma Gandhi started his movement for Khadi as relief program the underpriveleged.  It originated mainly in Eastern India, Northeastern India and Bangladesh, but are now broadly used in Pakistan and throughout India. This fabric is made mainly of cotton.
10) Kota
Kota is a very unique and light  blend of cotton and silk in a square check pattern. The silk provides the shine while the cotton provides strength to the fabric.  The full name is Kota Doria and it is traditionally from Rajasthan, India. 
11) Linen
Linen fabric is made from the fibers of the flax plant. Linen is not easy to manufacture, but the fiber is very strong, absorbent, and dries faster than cotton. Garments made of linen are valued for their exceptional coolness and freshness in hot and humid weather.
12) Lycra
Lycra is also called "Spandex" which means "expand".  This material has become a popular choice for partywear sarees for its extra sheen and shimmer, durability and shaping qualities. The origin of lycra fabric can be traced to American history. 
13) Net
Net is a fabric that is lightweight and semi-transparent.  Sometime the net pattern is visible, sometimes it just appears as a sheer fabric. Net sarees give a glamorous and lightweight look.  most come with some elaborate embroidery or other work on top. 
14) Organza
Organza is a thin, plain weave, sheer fabric traditionally made from silk. It gives a very formal and elegant look, similar to a lightweight taffeta.
15) Pure Silk
Pure Silk comes in so many varieties, we are unable to list all of them.  They include:  Konrad, Mysore, Uppada, Kanjeevaram Silk, Chettinad, Gadwal and Pochampally are best traditional beauties of South Indian silk sarees. Paithani Silk,  Raw Silk, Maheshwari Silk, Raigarh Kosa Silk, Ghicha Silk, Kashmiri Silk,  Dharmavaram Silk, Kota Silk and  Tussar Silk to name a few.  These sarees are often collector's items and passed down to generations for their beauty and value of pure silk. 
16) Satin
Satin is traditionally made of silk but nowadays comes in synthetic varieties as well.  It is a type of fabric which is woven using a technique where the "Warp" or the lengthwise threads are dominating rather than the weft with minimum number of cross sections or interlacing's. It gives the most metallic shine of all the other fabrics. 
17) Tissue
Tissue sarees are just as the name suggests. They are one of the most delicate and feminine forms of sarees. They are named "tissue" because they are woven with extremely fine threads of silk that lend it the appearance and texture of tissue paper.
18) Viscose
Viscose is the generalized term for a regenerated manufactured fiber, made from cellulose, obtained by the viscose process. As a manufactured regenerated cellulose fiber, it is neither truly natural (like cotton, wool or silk) nor truly synthetic (like nylon or polyester) – it falls somewhere in between.  It comes in many varieties and styles so it is difficult to describe just one look for viscose material.